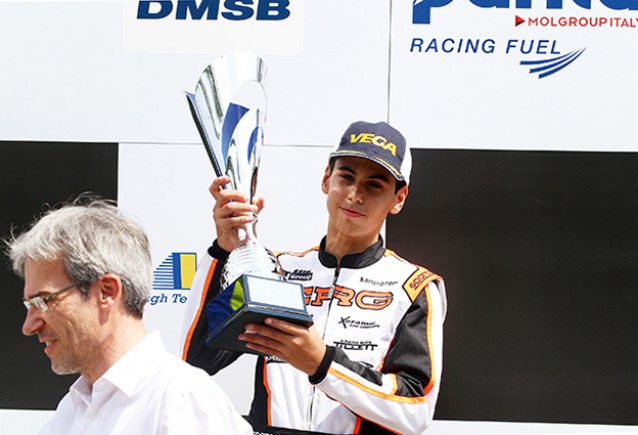 Among the quickest and most interesting drivers on the international karting scene, he has been part of the CRG Team since 60 Mini.
The Brazilian Gabriel Bortoleto has grown in karting with CRG: he has been part of the Team Gamoto in 60 Mini, then moved to the CRG Factory team of OK Junior in 2017.
This is the profile of one of the most interesting karting drivers to whom we ask a balance of his season: "I am really happy about the work done with the team and the results obtained this year. We run several races and tests, I grew a lot as a driver and learned a lot. Regarding results, I got a lot of podiums and two prestigious results: the 3rd place at the World Championship and at the OKJ European Championship. We have been very competitive for the whole season and for this I have to thank all the staff of CRG and TM, that provided us with a great engine support."
Tell us about your relationship with CRG that started with 60 Mini.
"My relationship with CRG and Giancarlo Tinini is special. When I came to Europe to compete in karts continuing the experience started in Brazil, my family and I chose CRG because it is one of the most advanced and better organized companies. In 60 Mini I have been part of Team Gamoto that has a direct connection with CRG's Factory and then in 2017 I switched to the CRG Racing Team in OK-Junior. Last year we scored some positive results, like the podium of the European Championship in Sarno, but the experience and feeling built allowed us to be constantly competitive this year. One of the most important aspects that this karting experience has to give me, thinking about my future career, is to learn as much as possible in terms of technical aspects and driving. The training aspect at CRG is very important as we test a lot of solutions, have data analysis tools and top class staff. It is not by chance that drivers like Verstappen grew up at CRG".
What are your goals for 2019?
"I already made my debut in the closing two WSK 2018 races of OK to prepare season 2019: the feeling has been great as the speed. I am excited about this new challenge and we will work throughout the winter to be ready for the new season."
What advice would you give to a young driver getting close to International Karting?
"You need to be ready to make a lot of sacrifice, therefore motivation and commitment are crucial. I came to Italy, I changed school and I cannot do a lot of things that 13 years old do. Competition is very high and you need full focus. The International season is very challenging and pressure in a factory team is constant. This is a fantastic sport that make you to bring out all your resources and grow up a lot. Karting is a mandatory step to become a professional racing driver, it is the most important school."
Gabriel Bortoleto has been one of the main protagonists of 2018 OKJ season coming third at the European CIK-FIA Championship and at the World Championship.
CRG SpA
Press Office
www.kartcrg.com
February 13th, 2019
In the picture: Gabriel Bortoleto (Ph. CRG Press).