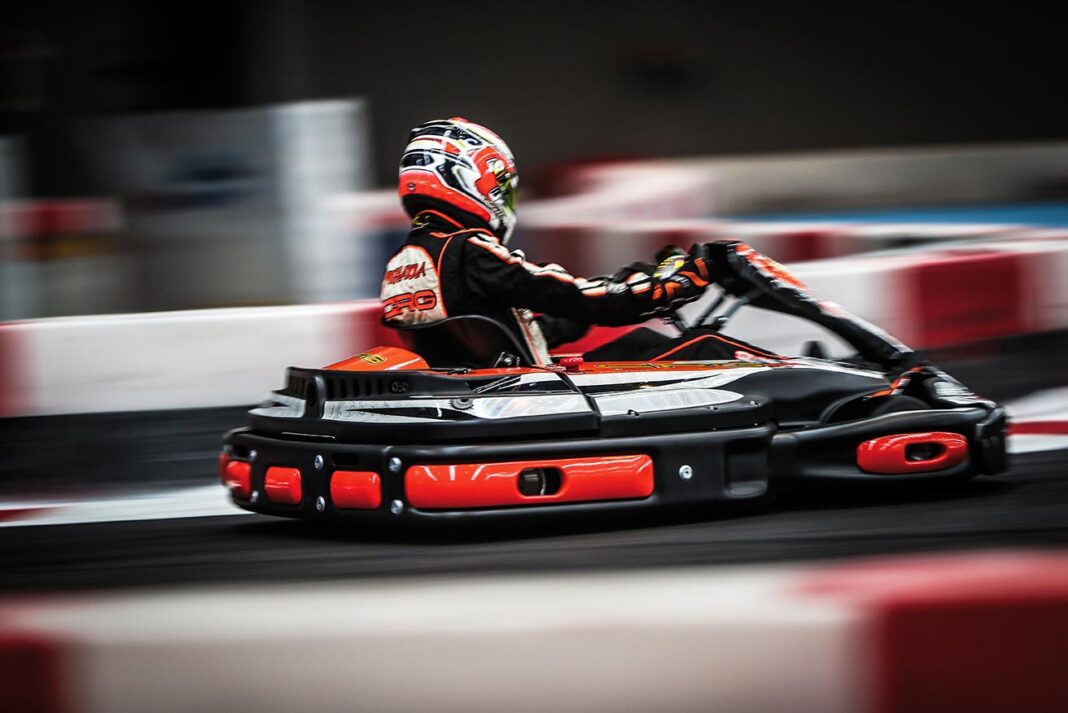 The test on track of the CRG E-Drenaline makes immediately evident 3 strong points of this project: performance, reliability and design. About the performance, thanks to the software that controls the two engines, it is possible to reach a speed over 100 Km/h, in line with the most performing Rental Karts (with petrol engine) on the market, but the advantage is that this speed can be modulated in 3 different levels (junior, standard and professional) for a wide use, from beginners to experienced drivers, with no need for different fleets.
About reliability, the two engines are guaranteed by the technologic partnership between CRG and Linde and the batteries last up to 5.000 cycles, allowing to use the kart on the track for about 1 hour without any performance decrease. Moreover, the innovating and effective impact absorption system is able to protect chassis and spare parts. In the end, the design is one of the most eye-catching on the market, thanks to the bodywork layout, the top range accessories, the racing livery and the F1 style steering wheel. The E-Drenaline driving sensations are incredible, starting from the acceleration, immediately ready when pushing the throttle, and the balance of the chassis is excellent, thanks to the batteries weight placed in the lower part beside the driver.
E-Drenaline is fast and precise when changing direction and the electric motors, that act in a separate way in terms of transmission through two semi-axles, make this kart very fun in the chicanes and tight corners. It is very effective also when breaking, thanks to a double system: on the rear by the same electric motors and in the front by a classic hydraulic disc brake. Moreover, the electric motors have an energy recovery system when breaking, able to recharge the batteries. Among the technical contents, E-Drenaline has electric pedals able to adjust the driving position and a "push to pass" button on the steering wheel that the driver can use to have an extra power for a few seconds, useful to pass or make specific actions on the track. E-Drenaline represents the future (already available) in the Rental Kart sector, especially for what concerns indoor tracks that have problems with exhaust fumes and outdoor tracks that wish the avoid acoustic problems. The electric kart by CRG combines the "green" aspects, that are becoming crucial also in motorsport, with performances and reliability able to endure all kinds of working loads. The recharging time is fast and it's possible to have karts always available for track activity, if well handled.
A supplementary battery pack is also available, together with its apposite recharging station in order to change the batteries in a few seconds and have a fleet always ready on the track.