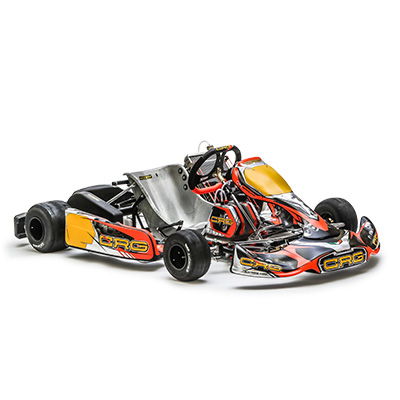 The KT4 chassis has a frame with ø30 Chrome moli tubes on the long chassis rail and the cross bars and front loop ø32 tubes, the new bearing hanger reinforced on the brake side. On the KT4 chassis it is possible to adjust the rear axle and the stub axle settings; on the front side it is easy to set up the caster camber by the exclusive Sniper caster system.
All the racing range is supplied with the,Ven 11 brake system depending on the braking system chosen. According which brake system you choose, there are 2 brake discs available, 192 mm and 180 mm.
The chassis is supplied with the plastic bodywork New Age 03, the rear KG and the sticker kit.
| | |
| --- | --- |
| Category | Direct drive – Shifter |
| Homologation | 002/CH/17 |
| Ø Tubes | 30/32 |
| Wheel Base | 1.050 |
| Larg. Post. | 650 |
| Front With | 738 |
| Ø Axle | 50 |
| Brake System | Hydraulic / Ven 11 DD |
| Brake Disk | Floating |
| Fuel Tank Capacity | 8,5 |
| Steering Wheel | Black Orange Ø340 |
| Rear Hubs | Magnesium |
| Seat | Resin |
| Wheels | 132/212 Magnesium |