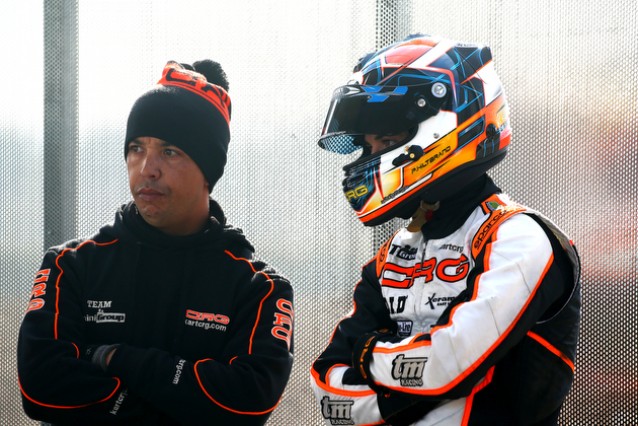 The first round of the FIA Karting OK and OKJ European Championship in Angerville, France, from 19th to 21st of April. The CRG Racing Team ready to live a season as protagonist with its drivers.
The FIA Karting OK and OK-Junior European Championship kicks off in Angerville, and after a long winter preparation, the CRG Racing Team will line up 6 drivers in the first French meeting: Pedro Hiltbrand, Gabriel Bortoleto and Ayrton Fontecha in OK, Lucas Pons, Enzo Trulli and Théophile Naël in OKJ. Also Kas Haverkort (Keijzer Racing) in OK and Cherine Bröer (CRG Holland) in OK-Junior will be racing with the CRG colours.
The FIA Karting European Championship starts in France with a good participation, 73 drivers in OK and 90 in OK Junior. The path will be quite long and hard, with 4 rounds of the OK and OKJ European Championship to be added to the 2 rounds of the KZ and KZ2 European Championship, besides the two final events of the World Championship for both direct drive and shifter classes.
In OK there a great expectations on Pedro Hiltbrand, already European Champion in 2016 in this category and 3rd last year, and on Gabriel Bortoleto, at his first season in OK after last year's third place in the OK Junior European Championship and in the World Championship as well, besides the possibility of the Spanish Ayrton Fontecha to make good results. In the Junior class, the eyes will be on Enzo Trulli, more and more competitive, and on the French Théophile Naël at his debut with the CRG Racing Team, besides the Spanish Lucas Pons that is performing at a good level.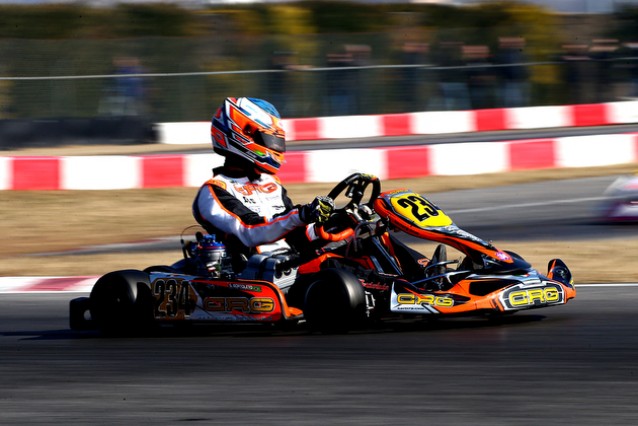 The race format will be the following: qualifying practice on Friday afternoon, qualifying heats on Saturday and Sunday morning, OK Junior Final on Sunday at 1.20 pm and OK Final at 2.20 pm in live streaming on www.cik-fia.com.
The drivers' comments:
Pedro Hiltbrand (OK): "We worked hard during winter races to be ready for the FIA season and this first round of the European Championship will be an excellent benchmark to measure our ambitions. For what concerns the chassis, we have the guarantee of tested material and that we know very well with these tyres; the track, instead, will tell us from the engines point of view where we should place in relation to our main competitors. But we are confident we'll make an excellent race."
Enzo Trulli (OKJ): "Winter work, including the national race we did here in Angerville 15 days ago, gave us a lot of useful data and an excellent feedback both regarding the chassis and the engines. I feel much more secure of my potential and I trust I can be competitive in this second season of international races."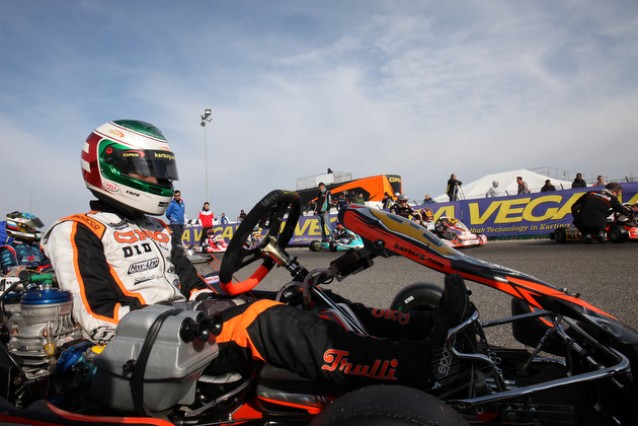 The 2019 European Championship calendar:
21.04.2019 – Angerville (F), OK, OK-Junior
05.05.2019 – Wackersdorf (D), KZ, KZ2
19.05.2019 – Genk (B), OK, OK-Junior
02.06.2019 – Kristianstad (S), OK, OK-Junior
16.06.2019 – Sarno (I), KZ, KZ2
21.07.2019 – Le Mans (F), OK, OK-Junior
Crg Racing Team record of achievements in the FIA Karting European Championship:
2018: KZ, Jorrit Pex
2017: KZ, Paolo De Conto
2016: KZ2, Fabian Federer
2016: OK, Pedro Hiltbrand
2014: KZ2, Andrea Dalè
2014: KF, Callum Ilott (Tinini Group)
2014: KZ, Rick Dreezen (Tinini Group)
2013: KZ, Max Verstappen
2013: KF, Max Verstappen
2012: KZ1, Jorrit Pex
2011: KZ2, Fabian Federer
2009: KF3 Northen Qualif., Nyck De Vries (Tinini Group)
2009: KF3, Nyck De Vries (Tinini Group)
2008: KZ1, Jonathan Thonon
2007: KF2 Central Qualif., Felice Tiene
2006: 100 Ica, Nicola Nole'
2003: 125 Super Icc, Alessandro Manetti
2003: 100 Ica, Nicola Bocchi
2002: 100 Ica, Jonathan Thonon
2002: 100 Ica Junior, Sebastien Buemi
2001: 125 FC, Alessandro Piccini
2000: 125 Icc, Valerio Sapere
2000: Formula A, Lewis Hamilton
1998: 100 Ica, Julien Poncelet
1998: Cadet's Green Trophy, Alvaro Parente
1998: Formula A, Cesar Campanico
1996: 125 Icc, Stefan Haak
1996: Formula C, Alessandro Piccini
1996: Formula A, Giorgio Pantano
1995: FA, Giorgio Pantano
1994: Cadet's Green Trophy, Lukas Luhr
1993: Cadet's Green Trophy, Giorgio Pantano
1993: 125 Icc, Stefano Marcolin
1992: 125 Icc, Stefano Rodano
1992: Formula K, Gianluca Beggio
1991: 100 Junior, Jordi Surrales
1989: 100 Ica Junior, Gianluca Malandrucco
1989: 125 Icc, Gianluca Paglicci
1988: 125 Icc, Vincenzo Saitta
1987: Formula K, Alessandro Zanardi
1987: 125 Icc, Paolo Pulliero
1987: Intercontinental-A, Michael Schumacher
1986: Formula K, Ivan Muller
1986: 125 Icc, Lamberto Di Ferdinando
1985: Intercontinental-B, Stefan Friatsch
1984: 125 Icc, Riccardo Franchini
1979: 125 Icc, Jan Svaneby
1979: Formula C, Giancarlo Vanaria
Press Office CRG SpA
18th April 2019