The CRG racing team proved themselves very competitive in both categories at the South Garda Karting circuit in Lonato. The best results coming from Paolo De Conto and Simone Cunati in the KZ and KZ2 categories respectively.
The FIA Karting World Championship came to an end in Lonato del Garda (Brescia, Italy), and showed to be very popular with both the fans and drivers who came in multitudes to the iconic race track, where the CRG racing team took a main role in both racing categories KZ and KZ2.
The competition, as usual at the highest level, was particularly tough starting from the time trials all the way through to the qualifying heats. A record number of 47 entrants in the KZ category and a whopping 122 entrants in KZ2, meant exceptionally hard fought championships throughout the weekend.
KZ – Paolo De Conto among the fastest
In the KZ category the 2-times world champion Paolo De Conto proved himself as one of the fastest (matching the lap times of the championship winning driver), and displayed his driving class as well as the quality of his CRG equipment. De Conto was the author of a spectacular recovery drive, in which he managed to make up a total of 11 positions, coming all the way from 16th to finish 5th, just outside the podium. Good performance also from the other CRG world champion in the field, Pedro Hiltbrand, who was penalized after the race for a loose front bumper infringement due to a race contact, and ultimately finishing in P28. The other CRG drivers qualifying for the finale were Austin Garrison (P23) and Jan Pokos (P29), with the latter also suffering a loose front bumper penalty. Not qualified for the finale instead were Adam Glear and James Myers.
KZ2 – Excellent race by Simone Cunati
It was the newly crowned Italian KZ2 champion Simone Cunati racing with the Modena Kart Team, who showed to the world why he is worthy of that title by proving himself to be among the fastest throughout the weekend. He posted the fastest time trial effort of his group and finished every qualifying race in the top 5 positions, thus giving him a good starting position for the grand finale on Sunday. Finishing in P6 he proved that he is one of the best in the world in the KZ2 field. Also very competitive was the Italian hopeful Paolo Ippolito finishing in 10th position just ahead of fellow CRG racer Andrea Dalè. The other two finalists in the KZ2 category for CRG were Gerard Cebrian (P23) and Benjamin Tornqvist (P25).
Among the CRG drivers who didn't make it to the finale were Marco Valenti, Fotis Sotiropoulos, Noel Leon, Francisco Sagrera, Zac Zamprogno and Gabriel Bortoleto. The later making his shifter debut and placing his mark on the category by setting lap times equal to the winner.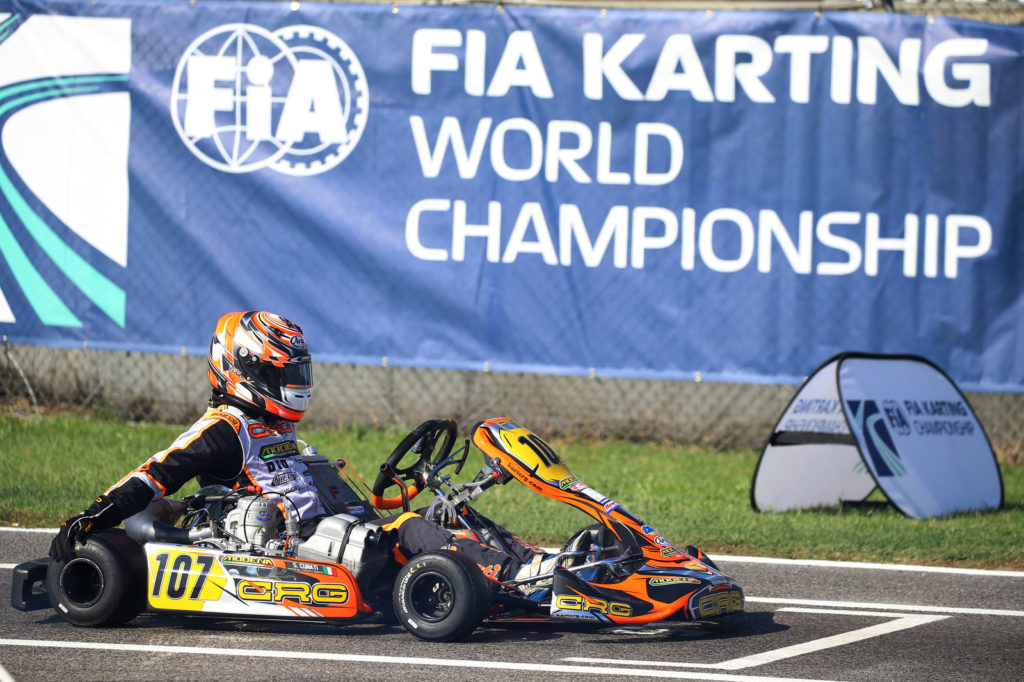 Comment by Paolo De Conto, KZ: "I was gunning for the outright victory here in Lonato, shooting for my third world championship title. However, due to inconvenient set-up mishaps I was not able to distract the full potential of the equipment in the time trial and qualifying heats, though the team and I tried various solutions to the problems. In the finale I gave it my all and finished in 5th position which does not satisfy me. Now I look forward to relax!"
Comment by Simone Cunati, KZ2: "It was an overall positive weekend in which the always worked well as team. I posted the fastest time of my time trial group, but unfortunately the track conditions of my particular series was unfavorable due to the setting sun, which in turn caused for slower lap times overall. That caused me to always having to start from a mid-grid position, but I was able to extract the maximum from my equipment and thus was able to recover nicely in all of my qualifying heats. In the finale I lost positions right at the start and was not able to recover from that. In summary I can say that the year went very positive for us as I was able to conquer the Italian title and fought for the European championship until the final race. Here, at the Super Cup in Lonato I was able to finish 6th out of 122 drivers, so I can say that I am truly happy with how we worked as a unit with the Modena Kart Team."
Ufficio Stampa
CRG SpA
23.09.2019