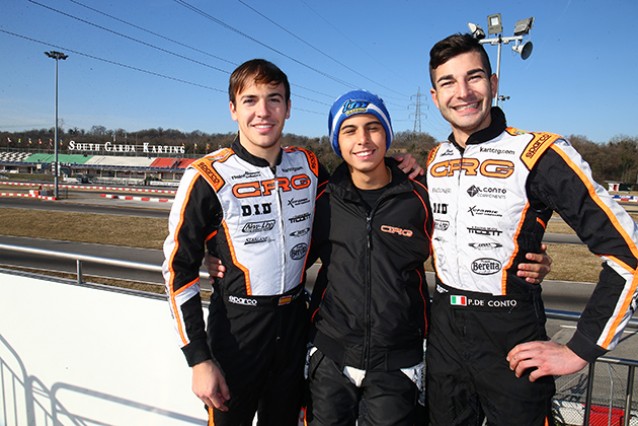 The classic meeting scheduled for this weekend in Lonato will be the occasion to present the 2019 drivers line up and make an important shakedown in view of the FIA events.
With over 300 drivers, the 24th Winter Cup will be a very interesting event and it will give an excellent feedback in view of the FIA races. All the most important teams and drivers of International Karting will be on track and for the KZ2 class, it will be the first general test in view of the World Championship, that will be hosted by this track in September.
As a tradition, CRG chose to open its karting season with the Winter Cup, considered its "home" race but also the first real test for the Racing Team, even if the full formation will be only committed in the FIA races.
This weekend we'll see Enzo Trulli (at his 2nd season with the CRG official team) and Gregorio Bertocco in OK Junior, both with Iame engines, whilst in OK there will be Gabriel Bortoleto, with TM engines, Pedro Hiltbrand and Ayrton Fontecha, both with Iame engines. In the end, in KZ2 Paolo De Conto will be once again one of the protagonists, together with Filippo Berto and Marco Valenti.
Many other drivers will be racing with CRG external teams, as Lucas Pons in OKJ (Team M2 – CRG/Iame), Danny Carenini in OK (Autoeuropeo – CRG/Iame) and in KZ2 Javier Sagrera (Team M2 – CRG/TM), Andrea Dalè (Nuova 3M – CRG/TM), Samuel and Jean Luyet (DEL Motorsport – CRG/TM), Marc Helter and Benjamin Tornqvist (CRG Holland – CRG/TM) and Gerard Cebrián (Faluga Karting – CRG/TM).
On the engines side, the race in Lonato will give the first data on the new homologations and for what concerns the CRG Racing Team, also on the work done in-house.
About the chassis, the CRG drivers will mainly use the KT2 models (that proved to be very versatile and a benchmark during winter tests) and Heron in the OK and OKJ classes, whilst in KZ2 the reference point is still the Road Rebel chassis.
The event starts on Friday with the qualifying practice and the first heats, then more qualifying heats on Saturday and Finals on Sunday since 3.00 pm. Live timing and streaming will be available on the website www.southgardakarting.com
CRG RACING TEAM – Drivers line up
OK – Junior
Enzo Trulli (CRG/IAME)
Gregorio Bertocco (CRG/IAME)
OK
Gabriel Bortoleto (CRG/TM)
Pedro Hiltbrand (CRG/IAME)
Ayrton Fontecha (CRG/IAME)
KZ2
Paolo De Conto (CRG/TM)
Filippo Berto (CRG/TM)
Marco Valenti (CRG/TM)
CRG SpA
Press Office
www.kartcrg.com
February 14th, 2019
In the picture: from left Pedro Hiltbrand, Gabriel Bortoleto, Paolo De Conto (Ph. CRG Press).