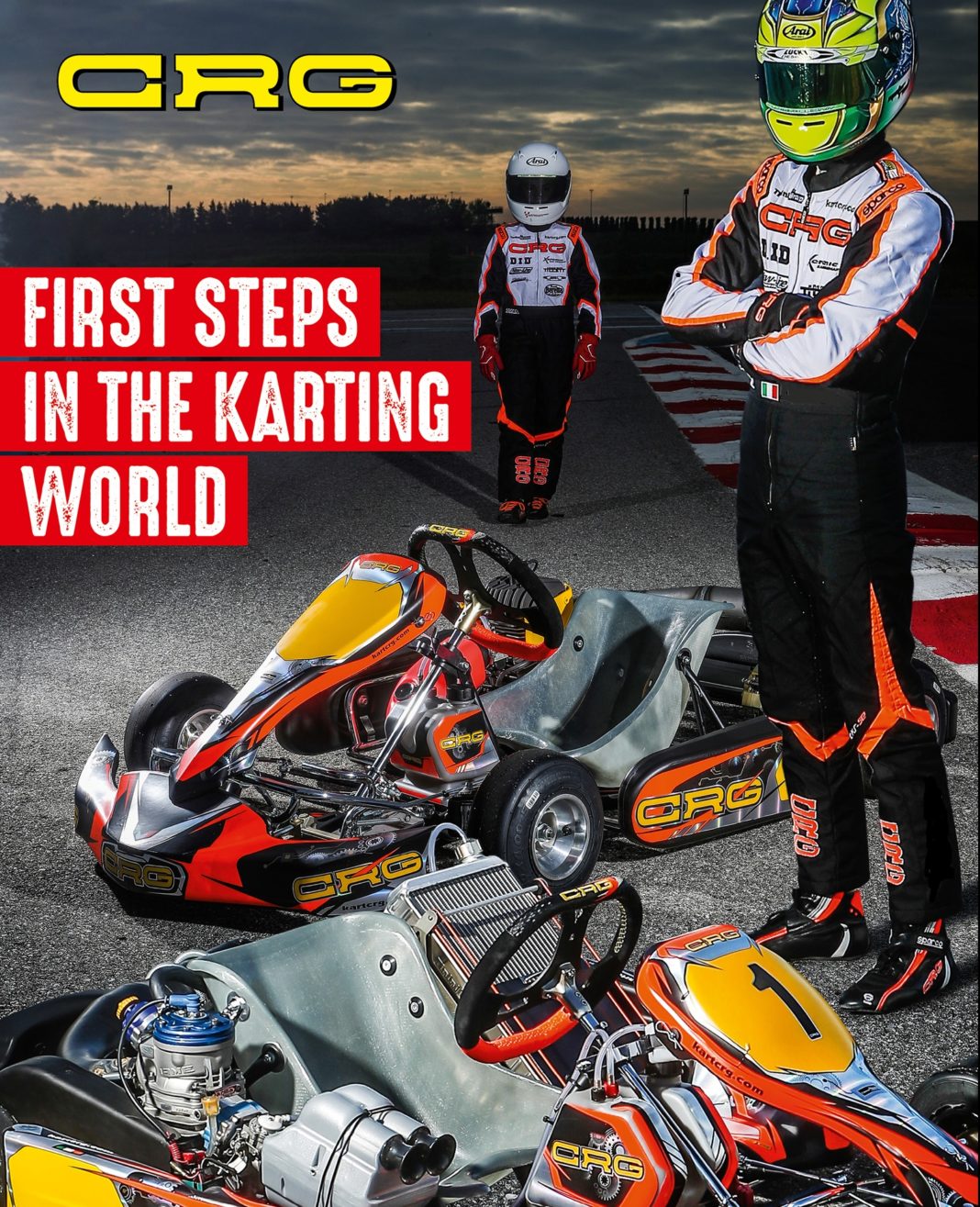 This is one of the most frequent questions asked by motorsport fans, young and less young, that see karting as a good entry point for motorsport and the way to keep their passion alive. Obviously, we need to make a premise but Karting is easy to practice at all ages regardless of the objectives.
Before giving some indications and concrete advice, let's have a little bit of an introduction.
Age.
This is a crucial parameter to get your head around a wide offer of products and categories. Kids can practice karting from 6-7 years of age with Entry Level classes and competitive karting at 8. The junior sector ranges from 8 to 15 years, after that, we have Senior categories for all ages. The approach is very different when a kid is starting with karting compared to an adult. In the first case, the priority is training ahead of a possible sporting career, while adults normally focus more on having fun. In the 80s one could start doing competitive karting at 14 years of age, but now this would mean a big gap of 6 years compared to other drivers. With the due exceptions, it is a good rule of thumb to start before 10 if one wishes to go through a sporting path. On the other hand, it is never too late to have some fun or to compete in "gentlemen driver" categories. One thing to keep in mind is that junior categories have a high level of competitiveness and technical standards, with racing programmes that include International events, therefore one has to consider also races abroad and Italy is actually one of the countries where a lot of champions moved to learn everything about karting.
GOALS.
Expectations are nearly always connected to age: do I want to become a pro or am I just looking for some fun? In the first case, it is virtually mandatory to start very early, especially if one aims to climb up to motorsport that is open to 15+ years old drivers. The market of amateurs is wide and offers more choice. It is important to understand how much time one can devote to karting, if there is the chance to take care of logistics (transportation, storage, maintenance and revision of the kart) and how much money one can allocate to this passion. Once these parameters have been set, the solution can certainly be found.
Kids: 3 important tips
1. Training
It is difficult to find prestigious and structured karting schools, therefore, the reference point for children starting with karting is a coach, a former driver or a mechanic with on-track experience. Karting schools can be a first step to get an idea about the attitude of the child, but the second stage will follow soon and will require a lot of training and a dedicated person and structure. Often the father of the child has the necessary knowledge to start the first part of the path with his child, but when the level goes up it will be useful to get some help from professionals.
2. Choosing the right category
In the junior sector, there are a lot of chances to start. The first advice is: study a lot. Go to the website of your National Federation and understand how to get a conductor licence for your son (1st step) and then evaluate the categories authorized by the Federation, trying to understand which ones are more successful and highly ranked. Before the age of 8 children can only take part in Entry Level events, but from 8 they can practice competitive karting and in some countries there are up to three different categories to choose from. Just to get things square, the 1st official category is 60 Mini and is open to drivers from the age of 8. In this category, chassis are open as engines, which means the level of competition is high. One can also find single-make engines and open chassis championships like, for example, the Iame X30, Rok or Rotax series, which are all championships with less expensive racing formats. At a more promotional level, that is great to start, are the 100% single-make championships where all karts have the same chassis, engine and tyres, like the Mini Briggs Kart Championship. Once the choice is made, the advice is to seek for the assistance of a professional team in the chosen Championship: this could help with the first experience and would avoid mistakes and ultimately save time and money.
3. Buying the 1st Kart
Before making this step it is useful to learn a bit about it and to have decided the category of interest (see above). Often a used kart can look like a bargain, but it might have some technical detail out of the homologation and it will soon become useless. In the best case, it is a great kart, but you cannot use it in a single-make championship, or it is just a bad buy and one does not have the knowledge to realize that in time. Taking it one step at a time: before purchasing a kart for your child, you need to make sure that he/she wants to commit to this sport and therefore he/she should have followed at least a basic course and some testing with a team or an authorized reseller. After this, one has to decide a category to compete in and the help of a professional (reseller of Racing Team) could be very useful. Often an obstacle to karting are also logistic problems and a karting operator can provide you with all the solutions: from transport to storage and maintenance of the kart. To practice competitive karting it is not necessary to purchase a kart, but you could make an agreement with a team that will rent you a "ready-to-race" kart so that you will have always up to date material and maintenance. An owned kart could be the best option in terms of costs for training instead.
Adults: 3 important tips
1. Start gradually.
If you have never driven on a track, you do not need a KZ kart with 40 BHP for your karting baptism: it would be like going down a black diamond skiing slope on the first day on skis, which means the concrete chance not to get any fun at all. Starting with rental karts is a great solution to appreciate the thrill of driving on the track and learn a lot clocking up mileage at low cost. The second step could be testing a 2 stroke rental kart. How? Virtually all resellers organize tests, but you can also look for the track closest to your home and ask them how to test a kart.
2. Choosing the 1st Kart.
The choice should be based on needs and expectations. Do you have time (and money) for a commitment to competition or are you targeting a couple of karting days per month? Regarding karts, there are two main families of products: shifters and non-shifters. Our advice is to test both and the choice is going to be natural, but not trivial: they require two different driving styles and it is not obvious that more power translates in more fun. Once this choice has been made, you will have to choose the category that suits your needs, considering that there are a lot of chances, especially for non-shifters. Which one should you go for? The web has a lot of information on the number of entitled drivers and regulations of each category, but you could also contact some teams and get a more precise idea by talking to them about costs, testing and services. If you are close to the decision to purchase your 1st Kart, here are some important pieces of advice: go for an experienced reseller and one of the main brands. This will save you from bad experiences and you will have a reference point for assistance and advice. The reseller will also provide information on logistics if needed, maintenance, revisions and spare parts. Should you decide not to move the kart by yourself, the reseller could manage it for you and you will feel like a professional driver saving time and energy.
3. How and where to start with the race
In karting, as in all sports, competitive activity requires a conductor licence that has to be provided by your National Federation and a good level of training. In Karting, the 70% of preparation is done in one way only and in one place: the track, clocking up miles and miles. The championships and categories of reference in every country are those that award national titles. There are also several chances to compete at less demanding levels, from an economic point of view, time dedicated and physical energy needed. Starting from Rental Karts, you will find a wide offer of sprint and Endurance races (to be run in teams), then there are several "low cost" promotional Trophies like the Briggs Kart Championship, that feature one-day events and karts (CRG) equal for all participants pushed by a 4 strokes Briggs & Stratton engine. The next step is single-make promotional Trophies with 2 strokes engines (on average with more than 28 BHP) that provide better performances, but also require more physical energy and have higher running costs. In these classes, tyres deliver more performance, training and the technical package are crucial to be competitive. At this level, there are races for shifter karts that have even better performances. Competing on track is possible and do not forget: there are no low or high-level championships, there is only passion and different ways of living it.